Internet Explorer 9.0
| | |
| --- | --- |
| I am a hardcore IE user. I hardly use Firefox or Chrome but this time I am really disappointed by version 9 of Internet explorer. Last week I installed IE 9.0 on Windows 7 and facing following issues : | |
1) Freezes up Constantly
The biggest problem of IE 9 is that it crashes a lot. I turned off all the third party
Add-ons but still facing this issue.
2) Processes keep executing.
Even if you close the IE window. Internet explorer processes remain executing in the memory. Most of the time I have to end the processes from Task Manager. This never happened with IE 8.
Below is the snapshot of Task Manager. Right now only 1 window of IE is opened but task manager is showing that 5 IE processes are running.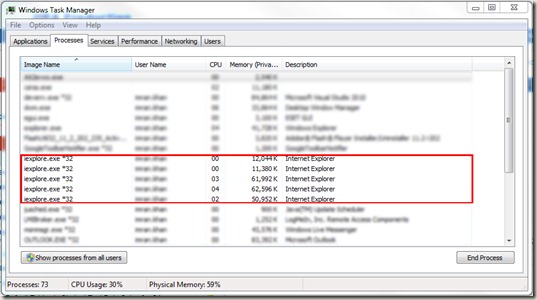 The only solution I have right now is to go back to version 8.0 OR to use Firefox/Chrome.